Nik Zherdev has been a great addition to this team. 9 goals playing 4th line minutes? I mean come on. He gives you options on the powerplay and 4-4 and in the shootout. The problem is that Lavy has yet to use him as such. People complain about his motivation and all this stuff. But look at Jeff Carter. Carter takes as many if not more shifts off than Zherdev, he is just as "me,me,me" with the puck, he turns it over just as much and he is just as lazy when he skates. It's all about favorites with Philly fans. The guy never got a fair shake since he has been here and so unless he put up 50 everyone was going to be complaining. He has played well-above the amount of time he has been given. Remember: he plays with Jody Shelley as his linemate.
The only enigmatic thing about Zherdev is why doesn't Laviolette realize his potential?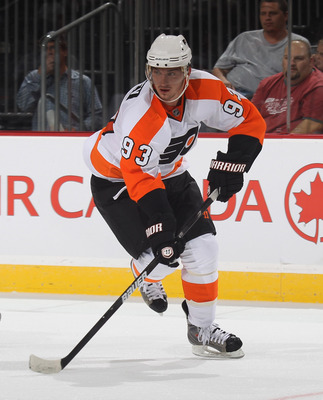 Zherdev has done more back-checking, more fore-checking and has shown more willingness to hit since he has become a Flyer. It really does look like, despite the reports from the bias media, that he wants to play in Philly and wants to play hard.
Instead of maybe making Zherdev crawl out of the mire, where he doesn't belong, Laviolette will give him trust.
He gave Carcillo how many games to figure out how to be a 1st line forward and the same with Nodl, why can he not do this with Zherdev? Shouldn't he be fair?
Zherdev has been worth his $2million price tag. But is Laviolette making the decisions that are worthy of his own paycheck?
For instance, Carcillo returns nd in his first game he is given 1st line time? Instead of Zherdev who has been playing well lately? On top of all that Zherdev was in the pressbox watching.
Carcillo had fallen out of the first line role from the beginning of the season where he played lifeless at times and brainless the others. It took him many games to finally be placed on the 4th line where he started to play better. He was then sidelined with an injury until the game against Boston.
So Carcillo's lackluster play plus the fact that he is coming off an injury is still better than Zherdev? That does not add up. I oculd see inserting Carcillo into the lineup for Powe or Nodl or someone of his own skillset. But to take a finese winger who is looking to break into the top 9 out of the lineup for a recently recovered grinder who was having trouble before the injury? I don't know. My faith is starting to be lost in Laviolette's personnel managing.
Let me go back to the preseason where Zherdev was playing very well with Claude Giroux. What happened to that? By game 1 of the regular season Zherdev was taking shifts all over the place. All I am saying is that Laviolette is either being too hard on Zherdev, trying to make an example out of him-- which should be aimed at others(Carter) or applied equally down the board--has a personal problem with Zherdev--which is unprofessional and clearly needs to be addressed-- or is plain stupid. I don't think that Peter Laviolette is stupid, I just think he doesn't like Zherdev and has to deal with the same negative attributes in others (i.e. Carter).
Either way, I hope Zherdev gets the top 6 ice time he deserves here along side Giroux or gets moved. He is a player who is completely misunderstood because of media and franchise bias that has been present since day one in Philadelphia, and most likely in New York and Columbus before.