Ah, yes. The second and final part of Surprising Teams at Thanksgiving Break is here. Part 2 looks at the surprising teams in the East at Thanksgiving Break (and slightly after). 
Eastern Conference
Atlanta Thrashers 12-9-3 +5 goal differential
With the cast off of the  Chicago Blackhawks' Stanley Cup team the Thrashers were bound to improve, but to be in the 7th slot with a couple of impressive victories is another thing. Offensive defenseman (and sometimes winger) Dustin Byfuglien leads the team with 25 points in 24 games. His pal from Chicago last year, Andrew Ladd, is second with 24. Thrasher's first round pick Evander Kane is also producing with 16 points. 8 Thrashers have put up 10 or more points this season; with the absence of Ilya Kovalchuck, the Thrashers have committed to a team first style. The offensive production spread shows this.
Their defense sports two 20 point dmen, as Tobias Enstrom has 20 in 24 games. But it isn't only points with their D. The Thrashers have 8 NHL quality defensemen: Byfuglien, Enstrom, Johnny Oduya, Zach Bogosian, Brent Sopel, Ron Hainsey, Noah Welch, and Freddy Meyer. Welch and Meyer have only seen a few games, but if Atlanta gets hit with the flu bug their D can withstand it. They are shaky in their own end at times, but the speed on their back line helps them recover from mistakes.
The story of the year for the Thrashers has certainly been their goaltenders. Ondrej Pavelec went down early in the year, collapsing on-ice during a game. Chris Mason stepped in and kept the Thrashers in games until Pavelec made a courageous comeback from his fainting spell and since has been on a tear. Pavelec has a save percentage of .949 and goals against of 1.62 which is fantastic because he sees 26.7 shots a game.
[caption id="" align="alignright" width="462" caption="Pavelec has played well since returning from his on-ice collapse"]
[/caption]
The Thrashers may not make a splash in the post season but they will certainly make a splash in Georgia just by getting in. They are a young team, a team learning to play without Kovalchuck. I would pencil these Thrashers into the 7th playoff spot this year. And in two years time, maybe even a series win. But then again, every series is different and Atlanta's team speed and young goaltending could help them be a surprising team in the playoffs this year.
Toronto Maple Leafs 8-11-3 -13 goal differential
Unlike the other three teams, the Leafs have been surprising in a negative way. Surely no one expected them to win the cup this year (outside the greater Toronto area) but with a positive surprising start, the Leafs have gone 3-6-1 in their last 10. Their road record is killing them, a measly 2-7-1 will not help the Leafs return to their 9 points out of the first possible 10 ( a record of 4-0-1). Their talent does not translate into consistent 9 out of 10 points but they have more talent then to be bottom dweller.
Toronto's Phil Kessel is their most talented player, bar none. But don't tell that to Clarke MacArthur who leads the team with 18 points in 22 games. Their style is gritty, in-your-face, Brian Burke hockey. They fill their roster with a good mix of goons, grinders, and talent players. Offensive forwards, defensive forwards backed by offensive and stay-at-home defensemen. They have a young European goalie and a veteran Canadian netminder too.
But their problem is the mix isn't really mixing. The first 5 games were clearly a mirage, a smoke and mirrors of sorts. Now the problems are bubbling over and showing themselves. Their defense is where the problem lies. At the end of the trade season last year, the top three of Tomas Kaberle, Luke Schenn and Dion Phaneuf looked to be a great start and future for the Leafs blue line. But this year, Leafs' captain Phaneuf has struggled with the pressure. Schenn and Kaberle have held their own playing solid offensively but in their d-zone they have struggled. Their breakouts are sloppy and off-cue. It is hard to jump-start offense when the breakout is slowing down the rush or turning the puck over.
On the offensive side things are brighter, but not much. They lack a true flight top line center for Kessel. Mikhail Grabovski has done admirably in that spot, but is by no means a top flight center--he is a strong second. They also lack secondary scoring, as they are another top 6 winger short. This shows up in their average goals a game. The Maple Leafs average just over 2 goals a game, 2.18 too be a little more exact. This is a problem as they give up a tad under 28 shots a game. Thankfully their goalkeeping has averaged 2.77 goals against a game to keep it close.
[caption id="" align="alignnone" width="577" caption="Phil Kessel spurs the offense on in Toronto"]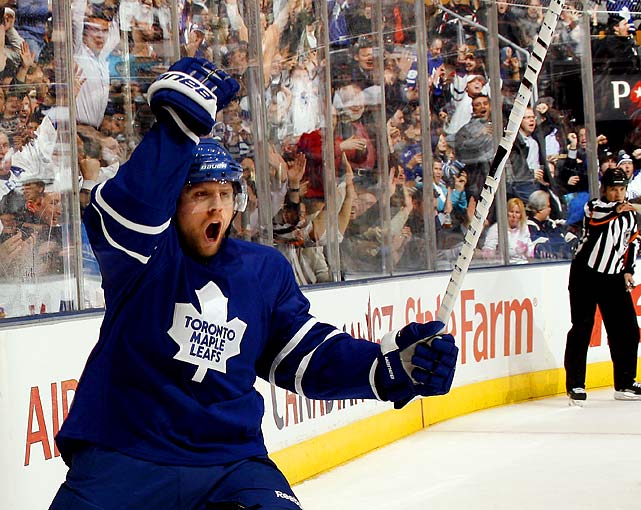 [/caption]
And that brings us to the goalies. J.S. Giguere is at the end of his contract this year and will most likely not be back. Giguere has been less than stellar and his counterpart Jonas Gustavsson has been average. They post a .895 and .917 save percentage respectively. Their stats are more reflective of the team in front of them than their actual play. But let's not get carried away, the goalies have not stolen too many for the Leafs either.
The Leafs are a few players away from good foundation and good seasons. The (hopeful) trade of Kaberle should bring back some help. But that's the future and not this year. The Leafs will be lucky to not give the Bruins another top 1st rounder the way things are going (Boston Bruins received last year's 1st rounder and this year's 1st rounder in return for Phil Kessel). I am surprised just how poorly they are doing. I pegged them for about 9th or 10th in the conference this year and currently they sit at 13th, 4 points out of the 9th spot. Their lack of team chemistry needs to be addressed to stop the bleeding of this year. A respective finish, not out of the question, would help the fans in Toronto make it through the summer and to a new season where Toronto can have a do-over.
Thanks for reading my 2 part piece. Hopefully it was well worth it and there will be more of these in the future on zelePUCKin.
If you haven't subscribed yet, go over to the right of the page and sign up above the author page.